DPS Today

DPS is one of India's leading schools with an international reputation. The "Objects of Education" as enunciated by the Founder Headmaster.

Smart Classes

In collaboration with Educomp, we introduced Smart class technology in our school. Smart class is a comprehensive Solution designed to assist teachers in meeting day to day classroom....

Facilities

Bricks and mortar do not an institution make. However, since these house the paraphernalia needed to keep body and mind in the right frame.

Activities

Giving fuel to the inquisitive mind of a student, the newly introduced Hobby Class opens up the mind to a wide variety of themes ranging from learning German to map studying.
Welcome to My School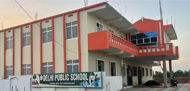 At DPS Dhaka which essentially aims in the service and the reconstruction of the community with a basic component of academic development of its children a warm iconic climate is set to pursue pedagogic superiority. In such an environment, its children, the parents, the educators and community.. Read more
DPS Dhaka
DPS TRUST PROFILE

Posted on 15 Oct 2016

The Delhi Public School Trust has evolved as a matrix.

Activities

Posted on 15 Oct 2016

Giving fuel to the inquisitive mind of a student.
Quick Links
Principal's Message

Satendra Singh
It is an honour and a privilege to be the Principal of Dhaka...
Read more