Infrastructure DPS Dhaka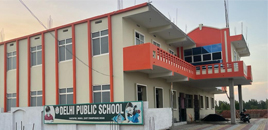 Infrastructure DPS Dhaka
The new 16-acre campus at Dhaka serves as the Campus of the Delhi Public School, Dhaka. The following facilities are provided at the campus:
THE ACADEMIC BUILDING
The new academic building will have approximately 20 classrooms. Each room has adequate storage provisions for the entire class. The building is networked to provide adequate computers. In addition to regular classroom, the building has classrooms equipped with multimedia projectors, language rooms, science labs, computer lab, music and dance rooms, staff rooms, Western and Indian music rooms and adequate toilet facilities for boys and girls.
SWIMMING POOL
The Half Olympic six lane swimming pool facility will be provided having adequate changing and locker room provision for 40 boys and 40 girls at a time. The filtration equipment will be provided to ensure international health standards in water cleanliness.
ATHLETIC TRACK & FIELD
This Half size athletic field has provision for an 8 lane 200 meter track, a full size football field and facilities for all field events. This is the only facility of its kind in the CG.
THE DORMITORY
The Dormitory constructed in modules accommodates 100 boys or 100 girls. The modules are designed to take advantage of the excellent view, with adequate ventilation and natural lighting. Running hot water is provided in all bath rooms and wash basins.
OUTDOOR SPORTS FACILITY
A large skating rink, basketball courts, volleyball courts, tennis courts and badminton courts are also proposed in the open space between the buildings.
SAFETY FEATURES
All latest safety precautions, including intrusion alarms and fire-fighting equipments are provided.