Welcome to My School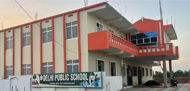 At DPS Dhaka which essentially aims in the service and the reconstruction of the community with a basic component of academic development of its children a warm iconic climate is set to pursue pedagogic superiority. In such an environment, its children, the parents, the educators and community members all come together. Lot of giving and receiving takes place in a learning environment which accords full and mutual respect to each other. This needs a climate of trust, collaborative framework not only at school but with parental involvement beyond school, to derive benefits for successful transformation of the child.
Director: Rakesh Kumar Singh

I am happy to see that Delhi Public School, Dhaka is achieving its heights in Dhaka.
Principal: Satendra Singh

It is an honour and a privilege to be the Principal of DPS Dhaka, the school that..
Teacher: Amit singh

A balanced teacher - student ratio with not more than 30-35 students in each class..