DPS TRUST PROFILE.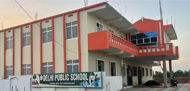 The Delhi Public School Trust has evolved as a matrix of high educational standards, spanning its network. With an emphasis on the motto 'Service Before Self', the objectives of the Trust primarily have been to produce global citizens.

DPS VISION
Ever wondered why every child does not become an Albert Einstein or an Edison? Most believe that it's because every child is not born a genius.The truth is, it's because every child does not want to become an Albert Einstein or an Edison. Some may be a Tiger Woods waiting to be discovered and some a Pavarotti. Each a genius in his own right, though not in what we call conventional none's. But somewhere down the line, trudging along those trodden paths, these hidden geniuses lose their direction to become just another face in the crowd.And this was one of the challenges we set before ourselves as we went out conceiving and designing the DPS Trust Schools. To provide an environment and curriculum where the child can explore and develop every facet of himself. So that he can realize his true potential.A challenge we have been true to in every aspect of the School. Right from developing an intensive and exhaustive curriculum to providing state-of-the-art technology to putting together a thoroughly trained and concerned faculty to ensuring that a plethora of activities is there for students to engage in. All set in an environment that's both therapeutic and beautiful.And while your child goes about discovering himself, he also discovers his extra-ordinary roots. Because another objective of the DPS Trust School would be to ensure that your wards get an opportunity to reconnect with the culture and values that forms the backbone of every Indian's existence.In other words, this unique educational institution seeks to blend the cultural values and traditions of a Gurukul with the latest inteaching aids and methodology.
DPS MISSION
In a safe, peaceful, disciplined and intellectually challenging environment, all DPS Trust students have ample opportunity to:


Achieve the best possible academic results.


Acquire habits of curiosity, reflection, mental flexibility, self-discipline, industry and self reliance.


Maintain openness of mind, dignity of conduct and mutual respect in the background of social, economic, cultural, religious and linguistic diversity.


Develop a confident understanding of their role in international Trust.


Understand their responsibility towards others and towards our planet.
Director: Rakesh Kumar Singh

I am happy to see that Delhi Public School, Dhaka is achieving its heights in Dhaka.
Principal: Satendra Singh

It is an honour and a privilege to be the Principal of DPS Dhaka, the school that..
Teacher: Amit singh

A balanced teacher - student ratio with not more than 30-35 students in each class..