Smart classroom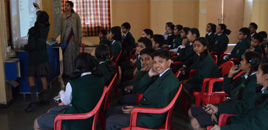 Learning becomes effective when the sensory organs receive practical experience. Our Audio Visual Smart classroom is equipped to give practical (audio and visual) experience to the students. DPS, Durg offers futuristic facilities where SmartClass technology is used, to the maximum advantage. Each Smartclass is provided with a Digital board, a Computer and LCD projector. This is a networked, wired classroom where the best Audio-Visual learning practice, is offered to the students. Interactive learning is promoted through these ICT Smart boards, that make education, an exhilarating experience for the students.
Director: Rakesh Kumar Singh

I am happy to see that Delhi Public School, Dhaka is achieving its heights in Dhaka.
Principal: Satendra Singh

It is an honour and a privilege to be the Principal of DPS Dhaka, the school that..
Teacher: Amit singh

A balanced teacher - student ratio with not more than 30-35 students in each class..